As many of you know, I love me a good K-drama. There's nothing that's more satisfying than watching romantic, tropey, somewhat predictable television shows that you can binge straight away. Because we're nearing summer holidays, which usually means more free time to binge-watch some television, I've compiled a list of 8 of my favorite K-dramas from the past 3-ish years. Most of these are rom-coms, but I've tried to curate a list that features a lot of different sub-genres so that there's a lot of variation! Without further ado, let's get into it!
1. Strong Woman Do Bong Soon (2017)
Genre: Romance, Comedy, Idol-Drama, Sci-Fi/Fantasy
Cast: Park Bo-Young, Park Hyung-Sik, Kim Ji-Soo
To start this list off, I'm starting with one of my ultimate favorite K-drama's: Strong Woman Do Bong Soon is definitely one of those. Bong-Soon, a girl born from a line of women with superhuman strength, is in desperate need of a job. When the young CEO of a gaming company, Min Hyuk, is looking for a personal bodyguard due to the fact that he's been receiving death threats, Bong-Soon figures this is her perfect opportunity. Meanwhile, their city has been plagued by a serial-killer targeting young girls, and police officer - slash Bong-Soon's childhood crush, Guk-Doo might need Bong-Soon's help to track down the killer.

This drama is perfect if you're looking for a good mix between comedy and drama. The acting is EXCELLENT (seriously, these three are among my top favorite k-actors!), and the romantic, as well as the mystery aspects of this drama are what make it such a great watch!
2. Suspicious Partner (2017)
Genre: Romance, Comedy, Thriller
Cast: Ji Chang Wook, Nam Ji-Hyun, Choi Tae-Joon, Kwon Nara

Next up is another one of my top faves! Suspicious Partner centers around Eun Bong Hee and Noh Ji Wook, who both work at the same lawyer's office. However, there's a killer on the loose with amnesia, and Bong Hee finds herself the suspect to one of the killer's murders. Will their team be able to catch the killer?

Suspicious Partner is another one of my favorite dramas (both SWDBS and this one share my 'favorites' spot, don't make me choose!) and has a similar feel to the aforementioned Strong Woman Do Bong Soon. It's a mix between comedy and thriller elements, mixed with a healthy dose of romance! Ji Chang Wook and Nam Ji Hyun are two of my favorite K-drama actors, and their chemistry is off the charts. What a treat this show is!


3. Just Between Lovers (2018)
Genre:
Melodrama, Romance, Idol-Drama
Cast:
Won Jin Ah, Lee Jun-Ho, Lee Ki-Woo, Kang Han-Na
Taking a break from the rom-coms to address a somewhat heavier drama, but no less quality.
Just Between Lovers
follows the POV of two people who survived the same accident. When he's caught in the collapse of a mall ten years ago, Lee Gang-Doo's dreams of being a professional soccer player are over. That is, until he meets Ha Moon Soo. Caught in the same accident, Moon Soo has lost her sister and is tasked with taking care of their mother, while she hides her own emotions. Being faced with Gang-Doo, then, will bring long-buried feelings to the surface.
Dealing with survivor's guilt and a ton of emotions,
Just Between Lovers
explores what happens to the survivors of a detrimental accident. This one is a tear-jerker! (In a good way)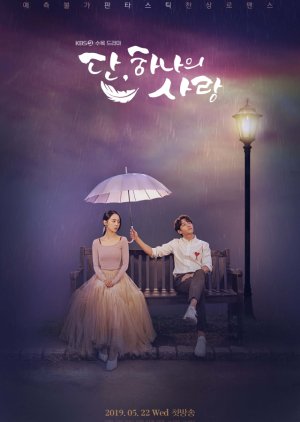 (image source: KBS
)
4. Angel's Last Mission: Love (2019)
Genre:
Comedy, Romance, Melodrama, Idol-Drama
Cast:
Kim Myung Soo, Shin Hye Sun, Lee Dong Gun, Kim Bo Mi
Moving on to a more happier scenario:
Angel's Last Mission: Love
centers around ballerina Yeon Seo, who has lost her eye-sight after an unfortunate accident, and has become a young bitter heiress. Unable to perform ballet anymore, she's cold, detached and mean to her surroundings. In comes (literal) angel Dan, who is tasked by the higher powers to help her find true love. Dan is kind, a little childish (and a lot mischievous!), and due to some previous trouble he has caused, he now has to complete this mission or be extinct. But what happens when you're tasked with a mission that seems impossible?
This drama has become my newest obsession. It's funny, warm, and so adorable! Also, it's ongoing, so the perfect time to start watching it is now!
(image source: tvN
)
5. 100 Days My Prince (2018)
Genre:
Historical, Romance, Comedy, Idol-Drama
Cast:
Do Kyung-soo, Nam Ji-Hyun, Jo Sung-Ha
Another staple sub-genre within the K-Drama scene is of course the Historical drama! I'm not usually someone who watches a lot of those, but
100 Days My Prince
was such a breath of fresh air for me! We follow Lee Yool, who is the crown prince. He suddenly disappears from the palace, and ends up in a local village with amnesia. When peasant girl Hong-Sim, who is in desperate need of a husband, finds a random guy with memory-loss, she feels this is her chance. She convinces Lee Yool that he's her husband, Won-Deuk, and all kinds of hilarious scenarios ensue.
This drama was fun, original, but also still carried a lot of depth. I'm not someone who enjoys comedy merely for the comedic value, so I was pleasantly surprised that, despite it being a funny show, it also did have a bunch of emotional scenes. Also, this drama showed us some familiar faces by casting
Suspicious Partner's
Nam Ji Hyun, and
EXO's
(Yes, the Boy group!) Do Kyungsoo. What a treat!
(image source: KBS
)
6. Healer (2016)
Genre:
Melodrama, Romance
Cast:
Won Jin Ah, Lee Jun-Ho, Lee Ki-Woo, Kang Han-Na
Healer
is the oldest drama on this list, but still an absolute must-watch! Much like
100 Days My Prince
, it features another familiar face: namely, Ji Chang Wook from
Suspcious Partner.
Now then, what is this show about?
Healer
goes back to the time when a group of friends ran an illegal pro-democracy radio station in the times of the Republic. This illegal activity somehow connects three people together in present-time; the illegal thief "Healer." a curious reporter by the name of Chae Young Shin, and the famous journalist Kim Moon-ho, who are all trying to decipher what exactly happened all those years ago.
This show has a definite vigilante vibe with Healer's secret identity, which is unlike something I've seen in other K-dramas. It's a perfect mix between action, mystery and romance, and I loved every thrilling minute of this.
(image source: MBC
)
7. Come and Hug Me (2018)
Genre: Melodrama, Romance, Mystery
Cast: Jong Ki-Yong, Jin Ki-Joo, Heo Joon-Ho

Another tear-jerker on this list is the 2018 drama Come and Hug Me, which follows two people who connect over a horrible tragedy. Han Jae Yi and Chae Do Jin were each other's first loves, until Do-Jin's father turned out to be a psychotic killer and murders Jae Yi's parents. Now, atoning for his father's sins, Do Jin is a police officer, while Jae Yi pursues an acting career despite her PTSD. What happens when fate realigns and brings these two people back together despite their horrific past?

This show is so emotional, scary, but beautiful all at once. With two rising stars as its main actors, incredible chemistry, and a heart-wrenching plot, it's surely a good one!

8. Are You Human Too? (2018)
Genre:
Sci-Fi, Politics, Romance
Cast:
Seo Kang-Joon, Kim Sung-Ryoung, Kong Seung-Yeon
Last on the list is another out-of-my-comfortzone drama. When Nam-Shin gets taken away from his mother, a gifted scientist, she makes a robot that resembles him eerily. When the real Nam Shin gets in a car accident and is trapped in a coma, Nam Shin's mother sends Robot Nam Shin to take his place and take care of his company. In comes Kang So-Bong, who was the real Nam-Shin's bodyguard until she's dismissed. Assigned to protect the new Nam-Shin, she is determined to uncover why he exhibits such strange behavior.
This show is very unique. I'm not usually someone who gravitates towards post-humanist fiction but Are You Human Too? provided such an interesting take on the sub-genre and is definitely something I would recommend!
There we go. That marks eight of my favorite drama's! If you enjoyed this, I'm thinking of making this a more regular feature on my blog. I know people who want to branch into drama's but don't really know where to start, and I'm by no mean an expert on K-drama's, but I've watched my fair share of them, which means not all of my favorites were able to make it on this list. Let me know if you've enjoyed this and what you guys' favorite drama's are, or which ones I should watch next. Thanks so much for reading and until next time!